"

They are quick to carry out the requested tasks and are able to prioritise tasks well due to a very good understanding of the matter and the business model.

"

Chambers Europe 2018
Client about our Corporate Law practice
"

The important qualities in a real estate lawyer are experience, professional competence, ability to distinguish essential from non-essential aspects especially in transactions, calm and serenity. SCWP Schindhelm's real estate department reflects those factors very well.

"

Chambers Europe 2018
Client about our Real Estate practice
"

We are satisfied in all parts of our collaborations.


 

 

 

 

 

"

Chambers Europe 2018
Client about our Dispute Resolution practice
"

Our general impression is very good. In the region of Upper Austria and beyond the firm is certainly one of the top three firms in finance, particularly in projects with international aspects because of their international network.

"

Chambers Europe 2018
Client about our Banking and Finance practice
"

I am completely satisfied, on the one hand by the quality, and on the other by the speed with which things are carried out. They're very good.

"

Chambers Europe 2018
Client about our Capital Markets practice
"

They fulfil my expectations and experiences of first class corporate law firms.

"

Chambers Europe 2018
Client about our Corporate Law practice
"

An important strength is their client-focused target orientation. In my opinion, there are no improvements.

"

Chambers Europe 2018
Client about our Real Estate practice
"

They offer good support and are problem solvers, not creators. They try to understand the client and see what we want and find sensible solutions.

"

Chambers Europe 2018
Client about our Public Law practice
"

We were extremely satisfied with the team's performance. We were particularly impressed by the high quality of the work and effort of the whole team as well as the professional handling of a huge amount of documents.


 

 

 

 

 

 

"

Chambers Europe 2018
Client about our Dispute Resolution practice
"

In particular, we value the ability of the team to respond to difficult questions within a short space of time and to find meaningful and workable solutions.

"

Chambers Europe 2018
Client about our Real Estate practice
"

We agreed on a timeline, and the timeline was met. They're value for money, absolutely.

"

Chambers Europe 2018
Client about our Capital Markets practice
"

They move forward quickly and get to a conclusion. They give answers rather than just more questions, and they take a much more practical approach. If we need them, they are fast and available.

"

Chambers Europe 2018
Client about our Competition Law practice
"

In addition, they have the legal expertise and industry expertise needed to successfully complete a challenging transaction from start to finish.

"

Chambers Europe 2018
Client about our Real Estate practice
"

Because of the experiences I had with SCWP Schindhelm I cannot recommend anyone else. We are very satisfied with how we were able to realise this project through the help of the firm.

"

Chambers Europe 2018
Client about our Corporate Law practice
"

Their consulting approach is always state of the art. We have always been very satisfied with them and have nothing to complain about. They are always there when you need them and are always ready to work out solutions outside of the pre-arranged patterns of thinking.


"

Chambers Europe 2018
Client about our Real Estate practice
"

Our overall impression is very good. Everything was fine, so there's no improvement and we would like to emphasise the good quality price to performance ratio.

"

Chambers Europe 2018
Client about our Capital Markets practice
"

They are solution-oriented and if you ask for it they'll also offer quick solutions. There are no improvements, we're satisfied all round.

"

Chambers Europe 2018
Client about our Public Law practice
"

They are practical and there is extensive personal contact, and as a result we have a lot of trust in them. We are satisfied in all parts of our collaborations.


"

Chambers Europe 2018
Client about our Real Estate practice
"

M&A is seen as the firm's strongest transactional practice. It's strong in construction and real estate and has advised several clients on the acquisition of commercial property.

"

IFLR1000
"

It's important to get clear explanations, high professional qualifications and good reachability. The team was very quick in the implementation and displayed great professionalism at contract negotiations.

"

Chambers Europe 2018
Client about our Real Estate practice
"

We look for expertise and commitment to the cause in our lawyers. I am absolutely satisfied with the service, they do an excellent job.

"

Chambers Europe 2018
Client about our Real Estate practice
SCWP Schindhelm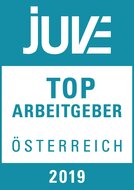 SCWP Schindhelm among the top 20 employers in the JUVE career ranking Austria
The JUVE editorial team presented those law firms which, after extensive research, are particularly attractive employers for law graduates and ranked SCWP Schindhelm among the top 20 employers in Austria in the overall ranking. Our Top 5 ranking in the areas of "training and further education" is particularly pleasing. SCWP Schindhelm is thus regarded as a "top trainer", offering intensive support and regular feedback to trainees. Our wide range of internal seminars, workshops (also in cooperation with other law firms/tax consultants) and the accompaniment of university moot courts were particularly highlighted as well. 

Find out more about your career at SCWP Schindhelm.
Women in Law Award
SCWP Schindhelm is one of the nominees for the Promoting the Best Awards in the Women in Law 2019 category. The main reason for a nomination was the number of female partners appointed to the respective firm since 2016.

For the second time, Women in Law and the Association of Austrian Corporate Lawyers (VUJ) presented the "PROMOTING THE BEST" awards in eight categories to legal departments and law firms. The best of the best in the legal field were awarded by the Federal Minister for Digitisation and Business Elisabeth Udolf-Stroblam 8 October 2019 in the Looshaus Vienna.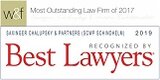 E-procurement platform
Handelsblatt publishes Best Lawyers Ranking 2020 - three SCWP Schindhelm partners were included in the ranking this year:
Dr. Hanno Liebmann - Public Law
Dr. Christina Hummer - European Law
Dr. Thomas Ruhm - Corporate Law
Fortunately, all of the following were able to maintain their positions from last year:
Dr. Ernst Chaluspky - Insolvency and Reorganization; Mag. Markus Fellner - Competition / Antitrust Law and Litigation; Dr. Maximilian Gumpoldsberger - Insolvency and Reorganization; Dr. Immanuel Gerstner - Corporate Law; Dr. Franz Mittendorfer - Corporate Law, Real Estate; Dr. Michael Pachinger - IT
SCWP Schindhelm has reason to celebrate - the results of the Legal500 Rankings 2019 have arrived:
First entry into the ranking in the categories:
Intellectual Property - Tier 5
Private Client - Tier 3
Promotions in the categories:
EU and Competition - from Tier 4 to Tier 3
Public Procurement - from Tier 4 to Tier 3
In all other areas of law, we were able to maintain our placements from the previous year.
Details of the ranking results can be found here.
SCWP Schindhelm is a founding member of the Legal Tech Hub Vienna
In October 2018, SCWP Schindhelm together with the law firms Dorda, Eisenberg & Herzog, Herbst Kinsky, PHH, Schönherr and Wolf Theiss founded the Legal Tech Hub Vienna. An inter-office initiative to lead the legal advice industry proactively, client-oriented and innovatively into the digital future.
 "We see enormous potential in the bundling of the competencies of members and future partners within the framework of the Legal Tech Hub Vienna to effectively and sustainably increase the degree of innovation in the entire legal sector for the benefit of clients and legal service providers," says Dr. Christian Pindeus, partner at SCWP Schindhelm.