International Advertising Law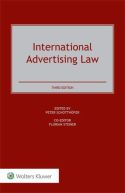 Recent political and technological developments, as well as increasing globalisation, have led to an interweaving of international markets. This situation makes national borders increasingly less relevant for those entrepreneurs who are interested in selling their products and services to customers outside their own country. However, as international advertising measures have cross-legislative implications (IP, trademark and copyright law, etc.), a certain familiarity with the dense network of legislation, regulation and jurisdiction is essential for all advertisers.

This book, which has now been published in a completely updated third edition, meets the practical needs of the management consultant with regard to multinational marketing measures and provides all the necessary information broken down by country and presented in thematic blocks.

The aim of this book is also to explain the legal framework and scope of individual countries in an understandable way, in order to provide an overview which is essential for the success of international advertising and marketing campaigns.

Authors: Dieter Duursma, Clemens Harsch et. al.
ISBN 978-90-411-6576-3, Wolters Kluwer
Edition: 3. (2017)